Bishop Charles May
Marine.Eng., Dip. Th., O.S.B., V.O.S.C.
Diocesan Chairman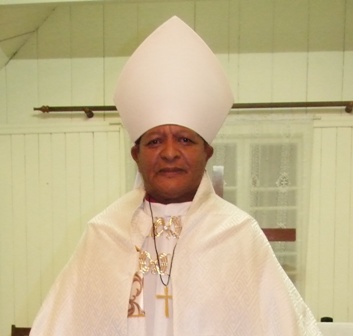 I was born in: Cape Town, South Africa. I attended Rondevlei Methodist School, Cape Town. Educated at Heathfield High School, achieving my Senior Certificate (Matric /Year 12) at Cape Town in 1972. I have two daughters from a previous marriage. My Tertiary education is: National Certificate for Technicians, Training Centre for Seamen- Cape Town 1977, Diesel engine simulator certificate, Comprehensive Fire fighting certificate-Cape Town Fire Brigade, Advanced First aid certificate-South African Red Cross, National Occupational Health and Safety Supervisors course, Competency based trainer course-South Africa Institute of Civil Engineers, Higher Education Diploma (Technical) -not completed- University of South Africa, Marine Engineers Certificate Class 2 Part A 1984 Dept of Transport-South Africa.
I have been involved in church ministries: Family Groups Leader Rondevlei Methodist Church-Cape Town 1982-1989, Sunday school superintendant, Rondevlei Methodist-Church Cape Town 1984-1989, ordained Lay-Reader AICA Beenleigh Diocese on 10/10/09, Deacon 12/6/10, Priest 7/5/11 and Bishop on 5/4/14 to conduct nursing home services. I have worked as Computer Operator Foschini Ltd-Cape Town 1973-1974, Boat Building Apprentice (briefly) 1974-1975, Marine Engineering cadet 1975-1980-Cape Town, Fitter and Turner 1980-1982-Cape Town, Lecturer, Marine Engineering 1982-1989-Cape Town, Production Manager 1989 -1994-Melbourne Australia, Technician 1994-2000-Brisbane, and Service Manager 2000-current-Brisbane. Charles looks forward to serving God through the Anglican Independent Communion Australia Inc.